I have a very busy lifestyle that some days leaves zero time for cooking
|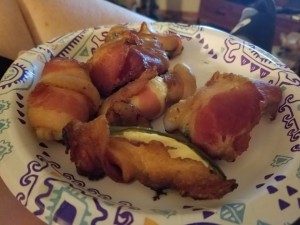 I have a very busy lifestyle that some days leaves zero time for cooking. Other days I have time to cook short meals but not really meal prep (so please don't answer with meal prep lol). Does anyone know of any brands of frozen foods that are low carb options for when I am in a hurry? Or even store bought prepped?
---
Shana Motta I don't really cook…that being said, most of the frozen meals (even the mashed cauliflower) has one or more non-compliant items in it (and trust me, I've looked)…
Options for when you're in a hurry:
Make the 90-second bread and use compliant meats (my favorite go to), eat a chicken leg (or leftovers), hard boiled egg, nuts, cheese…I find plenty of easy things to keep me full and doesn't take long
---
Katie Ward Shana Motta Go to counter where they sell Boarshead/ they have books on the counter that list all the info- everything.
---
David Dey Quick and easy pepperoni, dry sausage, cheese, kielbasa and sour crout (make enough or 3-4 meals), hot dogs or burger with a salad, mini sausage and eggs quiche (make enough for 4-6 meals), bacon and eggs.
---
Jim Knepper I have been looking at Jimmy dean breakfast foods in the frozen section. A lot of them are surprisingly low carb. I haven't looked for the hidden sugars yet though.
---
SherriClaude Carver There are several places in my small town that make fresh meals to go that are low carb. They have low carb and low micros. I know large cities have them also
---
Rebecca Sue Congdon I like the Green Giant or Birdseye brand riced cauliflour. Do you have any time on weekends to shred cheese or shred zoodles? They keep for a few days so you can use them quick.
---
Amber Kendrick My meals usually take less than 10 minutes to make. I have an 8" electric skillet at work and I make a veggie omelette in it every day, but I change up the vegetables, cheeses and spices so I don't get bored of it. I find picking a fat, a vegetable and a protein and sautéing them in one pan makes for quick meals and easy cleanup.
---
Jesse Suarez Rebecca Sue Congdon my wife helps as much as we can but we have a 6 month old and her schedule is pretty crazy too. Pretty newly diagnosed so just trying to figure things out for when I need to grab something
---
Rebecca Sue Congdon Jesse Suarez my go-to's for crazy times or being away from home is a meat stick, a cheddar stick, 1oz almonds, and 1 sq of dark chocolate. I package them together and keep them in a small cooler.
I have also done bags with pepperoni or salami slices, cheese slices (tillamook and sargento make compliant slices), green olives.
---
Annette Sanabria-Archilla Boil a dozen eggs. Eat anytime you feel hungry. Just perl and put in a bowl or ziplocks. If you find some spare time make 90 sec bread and cut in four slices. There you can prepare 2 sandwiches and have in your freezer of fridge. I bought at Walgreens these bacon jerky thing (my dog thinks it's his bacon😂) and they are good. Maybe not all the ingredients good but wth you wont eat them all at once. Just make sure they dont spike your bs.
---
Carole Stone You can put onion powder, paprika, cheese and bacon or ham into 90 second bread to make it like a yummy savoury muffin. If i am really hungry i use almond meal instead of almond flour as i find it more filling.
---
Janet M. Peterson Carter Birds eye Frozen cauliflower or any Frozen vegetable even green beans in Walmart a package so you can put them in a steamer for 3 minutes, add butter or olive oil and salt pepper and a rotisserie chicken
My successful Diabetes Treatment Story
My doctor diagnosed me with diabetes just over a year ago, at the time I was prescribed Metformin. I went to the some diabetes related websites and learned about the diet they suggested. I started the diet right away and I was very loyal to it. However, after weeks of being on the diet it never helped, my blood sugar didn't drop like I wanted it to. My personal physician wasn't much help either, he didn't really seem to give me any other options besides my prescription and the usual course of insulin. I was about to give up and then I discovered a great treatment method. The guide was authored by one of the leading professionals in the world of diabetes research, Dr. Max Sidorov. This is a guide that that shows you, in a very simple way, how to conquer the disease without traditional methods. I have to say that since I've found the guide and followed it, I've not only improved my health but I've also lost weight and improved other aspects as well. My activities have increased and I have a ton of energy! It is my goal to share the this diabetes treatment method as much as possible to show people there's more to the disease than traditional schools of thought and you can find your own path to healing with natural methods.